* E Newsletter Summer 2009
MCMAC E - Times
Summer 2009-#6 MIDWEST CHINESE MARTIAL ARTS CENTER Year of the OX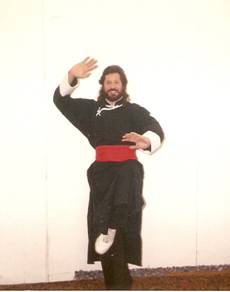 SiGung Scott in a Man Dress or Northern Masters Uniform in our system, a pose from the Crane – Wind Thru the Tree's form, taken long ago in 1991. SiGung Scott will celebrate his 31st anniversary August 1, since he began his kung fu journey in 1978. Many students and friends will be invited to some type of party/get together near the anniversary date. Make sure we have your current phone # and email address. See the picture below taken in 2008 Master Winokur holding the Pu Dau or Horse Leg Cutter, wearing a Lung Lum Pai uniform. Our Shaolin 8 Animal kung fu makes use of 30 Chinese Weapons. Our other systems also use the Classical and or Traditional Weapons of kung fu, or Tai Chi system of Chinese Martial Arts offered at Midwest Chinese Martial Arts Center.
SiGung has lost some hair over the years this picture taken last fall, take advantage now, private classes are forming, days Monday thru Friday, for a variety of opportunities. Ask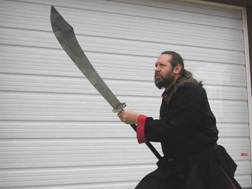 We at our MCMAC morn the loss of Famous Actor David Carridine, who played Shaolin Kung fu Monk Kwai Chang Caine, this television series, inspired me to want to learn Shaolin Kung fu and Chinese Weapons. This series is out on DVD seasons 1-3 and are worth watching, I enjoyed watching Caine learn the Shaolin Philosophy and wisdom.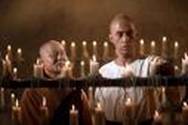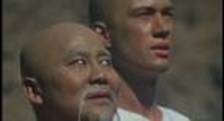 A few good pictures of the David Carridine in the role of Caine from Kung Fu Series
He learned wisdom and kung fu from Master Po ( the blind and wise master) above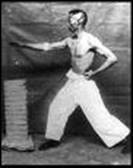 Iron Palm Training starts in August for all Adult students who want to learn ask SiGung Scott about this training. This is one of the 18 Skills of our Shaolin Kung fu training. Level 1 and 2 training starts soon if you are interested. This includes special breathing techniques called Chi Kung and special linament called Dit Da Jou or palm linament for protecting your hands from injury. MCMAC offers several levels of Xing Yong Chi Lu Chuan Baat Ying Ga Iron Palm training. Sign up ASAP and pay so the materials can be acquired.
What is Chinese Shaolin Iron Palm training? It is learning to break boards/bricks without damaging your hands and achieving results of breaking material without strength, instead using internal energy (Chi or Qi) through various breathing exercises and proper technique. Learn this rare and traditional training this summer/fall sign up today or ask one of the students/Instructors, or someone who has learned this training what it has done for them…

Picture of hands after Chi Kung energy breathing exercises (taken at a Renaissance Festival several years ago) this was during Iron Palm Training, all can achieve results if you try, you can accomplish most anything your mind can think of
*** Believing and Knowing are Universal Laws of Nature ***
New Summer Weapons Series Begins at end of July
I will be teaching the Yi Gi Kwan (2 section staff-nunchuku), as well as the Monkey's Rope, Cane, and others this Summer/Fall. Yi Gi Kwan/Cane will cost $40 for the initial seminar (Intermediate Weapon) and then $30 each. Monkey's Rope will cost $60 for the initial seminar (Master Weapon) and then $50 each. A very limited selection of students will be able to learn the Monkey's Rope, and limit of 10 for the Yi Gi Kwan, and Cane.
OOPs Sorry someone hacked our eight animal email account and has sent out hundreds of emails, I am fine and most of you have seen. I am not in the UK and did not get beat up and robbed, and had my passport stolen. I don't need 1200 pounds to get home, but if you want to send it to me anyway I will gladly accecpt it, send to PO Box 8401 KCMO 64114 USA. Many Instructors and friends have called and contacted me about the disaster. I appreciate all their words of encouragement and know I have martial arts friends. Thanks again you have my gratitude…SiGung Scott Winokur
WE have a new email account until this matter is cleared up mcmacinfo@yahoo.com
Please re-send your email address to receive our E news updates, Thank you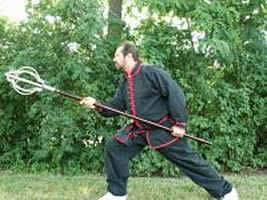 Si Gung Scott's Kung Fu Philosophy 101
This time we will explore the yin yang symbol as requested by one of the students.
First it represents complimentary opposites, both Male and Female, Light and Dark, Day and Night, as so on. We can go on to say it is Heaven and Earth as well. In our kung fu we see on one side the Tai Chi quality (water –soft, yielding) and at the same time Wing Chun quality of Aggressive, or Kinetic energy (fire- explosive). This energy in motion, and the yin water energy, and the dots of the yin yang symbol combine, and we get the mix of the yin and yang energies, both active and passive. Let's look at some examples right in our environment. Most, if not all humans have fallen down in their life, if you don't know or have never been taught how to correctly fall (rolling/falling-one of the 18 Shaolin Skills) you would probably stick out your hand or wrist to break or stop your fall. This will result in a Smiths Fracture of your wrist, however if you were to fall forward and down, again breaking your wrist, this type is called a Collis fracture. Here we see yin and yang once again, we don't want to see these ever in class. If we were a student of science we could speak of the Marianas Trench in the Atlantic Ocean (this is the yin) and the Pacific Ridge (yang) opposite of the Trench in the Pacific Ocean. This Marianas Trench is the deepest part of the Ocean reported to be at least seven miles deep, or more (remember the movie the Abyss, that was the trench). There are many more examples we overlook, one does not eat a hot dog or hamburger usually without a bun (yin/yang). Most of us use ketchup or mustard on a hotdog, again we see yin/yang the burger or hotdog being the substance and ketchup/mustard are the liquid. Even when you put a DVD or Game into the machine to run it, you are again using the yin and yang principle. How could you plug in your cell phone into the lighter or port in your car to recharge it without using yin/yang, think about it; there are so many additional examples it overwhelms the brain, which is really two hemispheres
yin and yang respectively. I will site other examples use your own head, it is endless which is like learning anything of use, it can be thought of on many different layers, and levels depending on who deep you look, remember the Marianas Trench is 7 miles deep we can not even comprehend what could live that far down, in the cold dark murky waters. But space or outer space relates to the concept of the Upper Waters, that G-d spoke about during his seven days of creation of the universe, he further said let there be Lower waters the Seven Sea's or Oceans of the Earth. Just as Chinese Shaolin Philosophy says a firmament is in between them or where we live. We can hardly know what is so far above us or even below us for that matter when you think about the seven mile deep Marianas Trench. I have always told you, if something is revealed, something is always concealed as well. Using science once again we know that of all the planets in outer space only two, Mercury

and Venus

have no Moons. If we try to attempt to understand why could take a lifetime, but remember that the planet Mercury is the communication or Air/Wind attribute, while Venus is the Earth planet attribute and again we have yin and yang. The fact the humans must breath air to live and we can't go with out it for longer than three minutes (most only 1 ½ minutes according to lifeguard studies), and we must eat solid food to sustain our bodies. Breathing in oxygen and out carbondioxcide is also the concept of yin and yang, whether of not we pay attentions to it of not, it happens. Eating food also results in removing the food from our body and again the principle shine through. These are the two ways we get chi or energy, the air we breathe and the food we eat (yin and yang). So you see whether you realize it or not we are connected to the concept of yin and yang in our everyday lives. One of my teachers (Luo Shur), GM Tong said "You don't need umbrella, but you will get wet if you don't use, you must know when it is going to rain" think about that one for a while… email your questions to our new email address mcmacinfo@yahoo.com, and maybe I will
write about your question, look below



The correct yin/yang, sideways yin/yang (used in many styles, mostly Korean), Tai Chi symbol yin/yang, the white represents heaven while the dark represents the earth.
You may submit any question to SiGung Scott at email address above or ask me in class, some topics are not suitable for the newsletter and will be answered privately, keep asking if you wish to really learn on other levels and layers of understanding…
SiGung Scott and MCMAC wish you a Happy Independence Day – 4th of July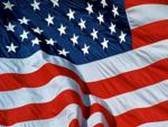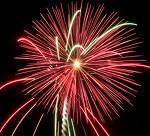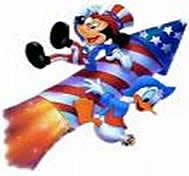 Please Don't Drink and Drive this Holiday – Be Safe - Call a friend or a Taxi Cab
Sorry that the E News went out late, due to email Hacker, Hope yours was great !
Midwest Chinese Martial Arts Center – SiGung Scott Winokur and Demo Team
Presented a Free Women Self Defense Seminar at Trailside Center May 2009
Here are a few pictures that came out of the disposable camera I used, or from Dan's cell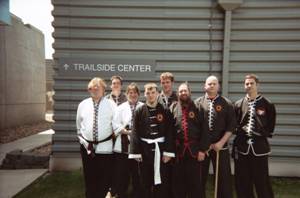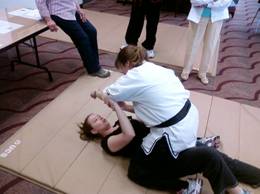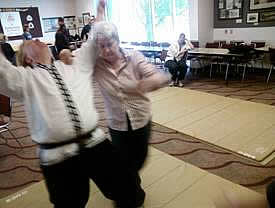 More pictures from FREE Women SD Seminar in May 2009 – Trailside Center
We taught no strength self defense techniques that work, to all who precipitated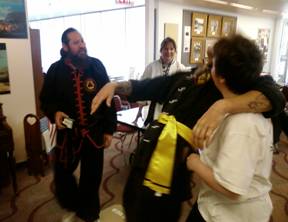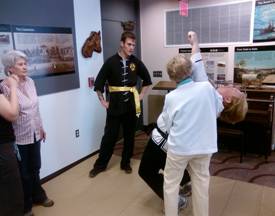 Thank you all Instructors and Assts who helped out at this Free May Women SD Seminar
For more pictures go to our website www.kungfukc.com and click the second other links and then click on Trailside Self Defense Seminar and see the rest of the pictures…
Want to have a Self Defense Workshop at your job or other location, just ask SiGung Scott for info...
Learn Shaolin Kung Fu for Self Defense Today

Coupons and discounts available,
Great Fun, Make New Friends, Learn Life Protection Skills, Ancient Shaolin Weapons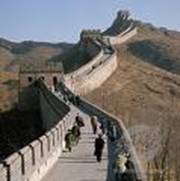 The Journey of 1000 Miles Begins with One Step
Start your journey today ask a Sifu or SiGung for information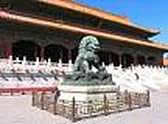 We have a wide variety of programs available, need more info go to our website
www.kungfukc.com Now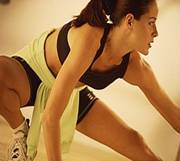 Sifu Leslie will re-start up the Kardio Kung fu Class this August. These moves will burn lots of calories and get you in great shape; these are my real combat combinations from real ring knowledge. You don't need a DVD from the TV come and experience the fun, and results you will get from this workout Saturday Morning at HQ 9:00-10am. Call the Headquarter school: Appointment and for a free trail class, w/complete application. $50 per month or $15 per class
Ask a Sifu Leslie or SiGung Scott if interested, or contact the main school 816-444-4777 or email to our new account mcmacinfo@yahoo.com
Below are a few pictures from a Self Defense Workshop for Local Social Workers
We taught on a weekend in July, at their Kansas City, Missouri location for two hours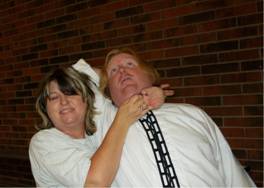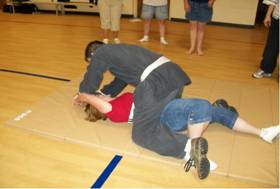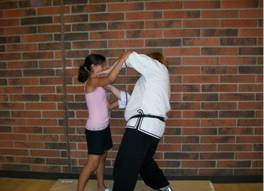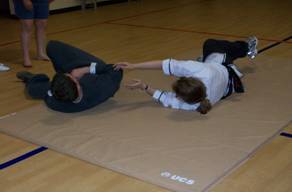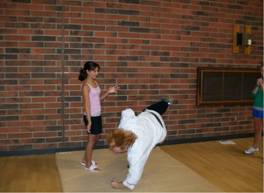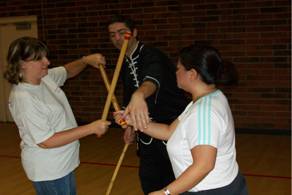 SiGung Scott, Sifu Leslie, Sifu Wade, Sifu Jason, Michelle, Dan, and Shawn all helped out for the two hour lecture/workshop on No-Strength practical Self Defense, pressure points, and vital area's to attack, several escaping, control, and empowerment skills concepts and techniques were taught. In addition several awareness and other important and related topics, and principles were also discussed. Master Winokur and Midwest Chinese Martial Arts various teaching and or demonstration teams serve the Greater Kansas City area with several Free Women's Self Defense and awareness Workshops usually about 3 -4 times per year. We also have instructed many low or no cost seminars for various business and other organizations, and have to date taught hundreds of workshops both here in Kansas City area as well as around the country… If you are interested in hosting a seminar or workshop on any subject, style, or other information please contact the Master Winokur at 816-444-4777 or email to mcmacinfo@yahoo.com
Why Learn Kung Fu, Wing Chun, Tai Chi, and other Chinese Styles
at Midwest Chinese Martial Arts Center
Protect your family and loved ones
Don't be a victim – crime, car jacking are up all over the city
Learn No Strength Self Defense Today – It works, ask any student…
Get in shape – Great exercise, works the whole body
Call our school 816-444-4777 – email us or www.kungfukc.com
New Students Pay 2 months, get 3rd Free…
Sign up your friend, receive $15 MCMAC Bucks
Current Students – Try one Free Class or different program, Ask Today if interested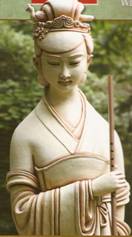 Fortune Cookie Wisdom
Tie two birds together, even though they have four wings they can not fly
We do not know the value of water until the well is dry
Do not climb a tree to look for fish, do not go swimming to look for birds
Do not follow in the footsteps of ancient men of old, but seek to find what they sought, and make your own footsteps
How shall I grasp martial arts, do not grasp it. That which remains when there is no more grasping is the self, that will lead you somewhere, you can not see
Separately we are as fragile as reeds,
together we are as strong as reeds tied in a bundle
from ancient writings -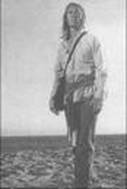 Buy the DVD's (3 seasons) now out. See many of our techniques, movements, and more in the monumental series from the 1970's that brought real Shaolin Kung fu and its philosophy to the public allowing many Americans the opportunity to see traditional Five Animal Styles. We today are able to learn ancient Chinese Martial Arts, Shaolin Kung Fu, its Weapons system, as well as Chin Na and others because I was one of those kids who watched this show in wonder while I was growing up, a true inspirational experience for the whole family, as Caine learns values, morals and wisdom he re-calls as he wanders looking for his lost brother. Worth ordering or watching.

*** Read Master Winokur's Article on Chi in the Martial Arts Published in the June 09 Issue of Evolving Magazine Page 16 www.evolvingmagazine.com click June Issue and scroll down to page 16 to read the complete article, let me know what you think…
Happy 20th Anniversary in business to SiGung Scott August 1, 2009 (89-09)
Send me promotions, ideas for articles, or any comments to mcmacinfo@yahoo.com
Sorry about the UK email the email Hacker sent out I am still trying to fix the problems
~~~~ Tell your Friend – Bring your Friend for End of Summer Special ~~~~
Sign up your Friend and receive $20 off the next month – Send your Friend Special
PRICE for friend $70 on any program in August, $90 on Wing Chun - normal rate in Sept
Must mention current students name- more info speak to one of the instructors today,
The Journey of 1000 Miles Begins with one step
Mastery is a Road, Not a Destination
19th Year in Business- 31 Years experience-wide variety of programs

Midwest Chinese Martial Arts Center – 2009 All right reserved www.kungfukc.com
For all inquires, classes or programs available email mcmacinfo@yahoo.com
Or call the Headquarters School at 816-444-4777 PO Box 8401 KCMO 64114