* More Information on Kids Classes 6-10 years old, and 11-17 years old


Kids Shaolin Kung Fu 6-10 years old
Our fun and exciting kids program is geared for ages 6-10, they will mimic the traditional animals of Chinese Shaolin Kung fu. Training will consist of animal moving drills to strengthen the body, and to increase concentration. Drills on the Muk Jong (Wooden Man Dummy) to strengthen arms and continue to increase concentration, and develop the I can do it myself attitude (self discipline). The forms (movements in a pre-arranged order-imitating an animal in nature) these teach confidence, self defense, and courage. In addition coodination will increse as they merge upper and lower body movements. Kids are not required to spar in our school, that is an extra class they may attend after competing the first level or Introduction level where they earn the right to wear the school uniform. The student will earn a white sash ( level 1, or first sash in our 8 color sash system to Black), this can take anywhere from a few weeks to a few months depending on how many time the attend, and how often they practice outside the school, (A good rule is for every hour in class, practice one or more hours outside of class). True Shaolin Animal Kung Fu is learned in two ways by watching with your eyes, and listening with your ears, and doing with your heart, mind, and spirit. We cultivate the scholar, over the warrior, or the use of thinking over fighting. For more information please contact us for an appointment, and a free starting class. We have no contracts and have been teaching this age of kids for 20 years in the Kansas City area.
The use of basic Chinese weapons is also taught, as they begin to get control over their bodies and gain some flexibility. Weapons are taught to honor the traditions of the past, as well as to protect oneself in times of danger. The staff is the usually the first weapons taught, it can be used in practical daily life such as a broom, rake, or shovel to defend yourself if needed. Chinese Weapons are considered extentions of the hand, and serve to develop confidence, patience, and ability to work overcome obstacles just as in life situations..
Why teach kids weapons?
1) To learn to move with an object in your hands, increase coordination
2) Learn to focus compelety, so you don't hit yourself, increase concentration
3) Learn the applications of the moves, so as to use it for self defense in necessary situations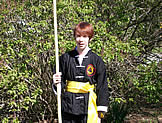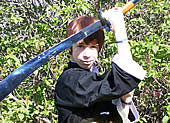 All kids 6- 17 learn the Staff, the Double Sticks, and the Broadsword in that order
Kids & Teen Shaolin Kung Fu 11-17 years old
Our older kids and teens program concentrates on more awareness and self defense. The students will still learn the fun and exciting Animal moving drills to strengthen the body, and to help to increase concetration skills. They also use the Wooden Dummy Man for conditioning, and for speed/timing to block attacks. Again Kung fu listening and watching are important and these skills are always being learned and applied. This group will begin to learn basic rolling/falling techniques needed for practical self defense techinques, and are in some of the forms (pre arranged patterns of animal movements)( similar to routines in gymnastics, ice skating, or dance movement but we use animal qualities and postures. Weapons are also taught in this program but with more precision, and really increases memory, and coordination in these sometime awkward years. For more information please contact us for an appointment and a free class. Midwest Chinese Martial Arts Center does not have contracts and we have been teaching kids for 20 years in Kansas City. We do allow our kung fu kids to compete in various kinds of martial arts tournaments, and we also encourage them to take part in and help out with the many martial arts demonstrations we present to help educate the public to values of Shaolin Kung fu training. Kids/Adults must try out for our MCMAC School Demo Team.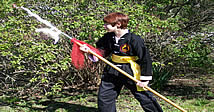 for more info call 816-226-7047
or email us at mcmacinfo@gmail.com
classes are on-going and you can start anytime... just call or email today